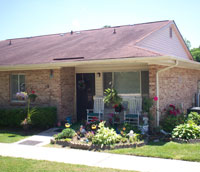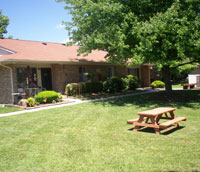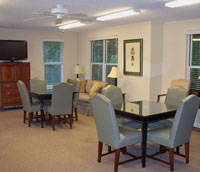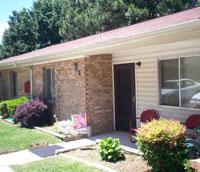 Gardengate is a beautiful well maintained residential community for seniors and/or the handicapped. It is located on Merritt Drive near Westgate and Sedgefield Shopping Centers in Southwest Greensboro.

This 125-unit complex is designed to provide a friendly residential atmosphere with neighborhood amenities and special features to make living safer for the independent elderly and handicapped. The apartments are tucked into a gently rolling terrain with ground-level entries offered in both one and two-story buildings. Walkways and landscaped nooks with benches connect residential buildings and an administration building.

Gardengate apartments are designed for privacy, comfort, energy conservation and easy upkeep. Each unit is heated and air conditioned by a heat pump and has one or two bedroom(s), bath, living room-dining area, kitchen, microwave, refrigerator, kitchen exhaust fan, disposal, washer and dryer hook-up and abundant storage. Special amenities for the security of residents include smoke detectors, emergency lights, alarm bells, nonskid floors and grab bars. Fourteen dwellings have modified baths and kitchens to accommodate the special needs of non-ambulatory residents.
Admission is open to an elderly person or family where the head of household or spouse is age 62 or older. Admission is also open to persons under age 62 where the head of household or spouse has a disability and needs the accommodation of a handicapped equipped unit. Rentals will be determined by family income with Section 8 subsidies being available to individuals and families who qualify. To apply, call or write:
Gardengate Apartments

2611 Merritt Drive
Greensboro, NC 27407-5604

Phone: (336) 852-5555
Fax: (336) 852-3759


Get Directions