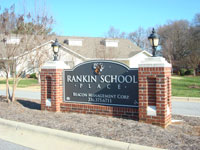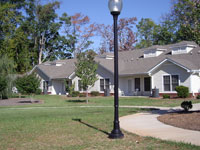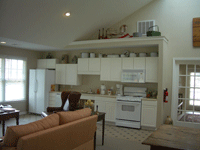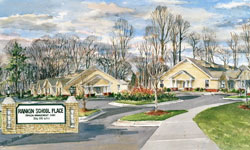 Welcome to Rankin School Place, an attractive, affordable community for seniors located in an ideal setting in northeast Greensboro. Situated in a quiet neighborhood, it enjoys close proximity to shopping, banking, services, restaurants, churches and major highways. The traditional craftsman architecture and single story footprint was designed with safety, convenience, comfort and affordability in mind.
The development offers 48 one-bedroom and 8 two-bedroom well-constructed dwellings. The two-bedroom units provide double master bedrooms each with their own bathroom. All buildings are age friendly offering ground-level, non-ambulatory access and a variety of security features. Each apartment possesses its own heating and air conditioning system and personal patio space with storage. Kitchens are fully equipped with range, refrigerator, dishwasher and washer/dryer connections.
The community building has a spacious and beautifully decorated activity room with a resident computer center, an on-site management office, as well as a communal laundry. Outdoor seating, raised garden spots, and generous landscaping compliment the property's exterior.
If you are age 55 or older, you can make Rankin School Place your home. Rentals are determined by income and other qualification factors.
If you have questions or would like more information on leasing opportunities, please feel free to contact us at the management office of Rankin School Place -- Tuesday and Thursday, 8:00AM - 5:00 PM and Friday, 1:00PM - 5:00PM